Cougar Cub Daycare – NOW HIRING LEAD DIRECTOR
Cougar Cub Daycare is searching for a self-motivated, energetic, organized and reliable individual to fill the Lead Director position; someone who has a love for working in a high-energy environment caring for infants, toddlers and young elementary age children.
Responsibilities for Lead Director include: managing the day to day operations of Cougar Cub Daycare, oversight of the food program, keeping facility clean (inside and out), managing and scheduling staff, taking responsibility of the administrative portion of payroll, and most importantly, overall safety and care of the children utilizing the daycare services.
Click here to access the application (pdf format) or (word doc format). This is a full-time position with competitive pay.
Applications may be dropped off or mailed to: Bird City Century II Development Foundation, 107 West 4th – PO Box 593, Bird City, KS 67731; or email application to darci@birdcity.com. Applications accepted until position has been filled.
Cheyenne County Clean-up Grants Available: Deadline Approaching
The Dane G. Hansen Foundation has offered up to $20,000 in grant funding to each of the 26 counties in the territories they serve throughout Northwest Kansas; Cheyenne County being one of those 26. This grant funding is focused specifically on clean-up projects for the communities within and county-wide.
The Hansen Foundation announced this clean-up initiative in the Fall of 2016 which has a tentative deadline date of June 1st for utilizing the available grant funding.
The grants are designed to assist with efforts to beautify communities for current residents and to help with recruitment of new residents; to eliminate the financial barrier to clean-up projects such as landfill fees and equipment rental; and to promote community pride and encourage volunteerism.
Grants can be used for: equipment rental, dumpster rental, landfill fees, paint or other consumable supplies, and for meals/drinks in support of the volunteers who assist with these projects. Grants are not intended for landscaping projects, or the demolition of unsafe structures, however, it does allow for the clean-up following the demolition. Labor for the clean-up events should primarily be provided by volunteers. If necessary, some funds can pay for labor that require particular skills or certifications.
Grant applications are to be submitted on behalf of the city, county, school or a qualifying 501c3 organization prior to the clean-up project; the committee will review the application and see that the request falls within the guidelines. Upon the committee's decision, the applicant will be notified as to the amount approved for funding. Once the project has been completed, the receipts and final report form must be submitted within 10 days following the event, a reimbursement check will then be processed for the expenses incurred up to the amount pre-approved.
Examples of clean-up applications approved thus far in various counties:
Volunteers were recruited to paint all of the city owned buildings on Main Street, as well as the playground equipment in the city park;
Trimming and cutting down trees, painting a shelter house;
Clean-up one day event to help pay for (reduced cost) landfill fees, renting roll off dumpsters, and refreshments for volunteers;
Tree/Vegetation Clean-Up with curb and street repairs patching removed items;
Chipper for tree trimming;
School playground repairs and painting;
Dumpster fees for a city-wide clean up.
Applications are available through the Greater Northwest Kansas Community Foundation at www.gnwkcf.org (click on the grants and scholarships tab). The remaining deadlines to apply for this clean-up grant funding are May 1st; May 15th and June 1st. Questions or inquiries may be directed to Darci at 785-734-2556.
Cougar Cub Daycare – Now Open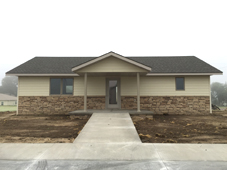 The Cougar Cub Daycare opened its doors in mid-September 2016. This has been a great addition; providing a needed service for our working parents and grandparents within the community. Childcare was offered first to those living within the Cheylin School District, then as remaining spots were open and available, they have been offered to anyone outside of the Cheylin School District who has a need for daycare. Daycare rates are $2.00 per hour for regularly scheduled children ages 18 months and older; $2.25 for infants up to 18 months; and $2.75 for the drop-in rate. The normal hours of the daycare are Monday through Friday – 7:30am – 5:30pm. You can reach the daycare by calling 785-734-2232.
New Daycare Facility – A service lacking within our community
Over the past few months, Bird City Century II Development Foundation has reached out to the community through surveys asking about the need for daycare. After voiced concerns of the lack thereof; and knowing that by not having this service has and will defer young couples and families from moving to Bird City, it was decided this was one priority the Foundation needed to focus on.
Options and locations were researched, and meetings were held between the Foundation board and Cheylin school board to establish the best plan to move forward. Knowing the school is a vital part of our community, we see many positives that could stem from this addition.
Construction of the new "Cougar Cub Daycare" facility broke ground on June 23rd. The facility will be 42' x 28'; will include a fenced in playground area and an unfinished basement which will be available for emergency shelter while the daycare is open. It will be located north of the Cheylin Elementary School; east of the Cheylin Wellness Center. This location was sought as a convenience for parents, and can be easily utilized for the Cheylin Preschool kids who attend half days at the elementary building.
Whitney Churchwell has been hired as the Lead Director for the new daycare.
Employment Applications: Application for Employment – Cougar Cub Daycare
Child Enrollment Applications: Application for Enrollment – Cougar Cub Daycare
SAFE ROUTES TO SCHOOL – Phase 2 – $250,000 in Grants Awarded
Bird City was one of 25 applications awarded funding through the Kansas Department of Transportation, Safe Routes to School program. The City of Bird City will receive $200,000 through this SRTS grant, as well as $50,000 through Bird City Century II Development Foundation, for a total of $250,000 to repair and/or add new sidewalks and curbs around Cheylin Schools, along Bird Avenue, and possibly in other sections of town depending on availability of funds.
This project will start construction in Spring 2017.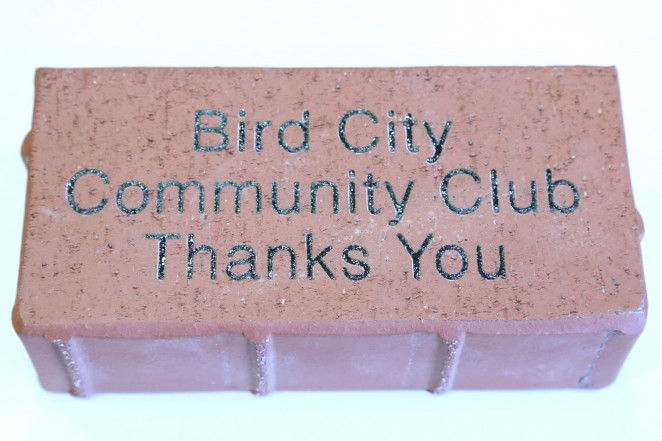 To help supplement this project, Bird City Community Club is working with Cheylin Schools to build a brick donor memorial wall; using personalized laser-engraved bricks purchased by individuals, families, businesses, memorials, etc. Sponsorship donations are $100 per brick, (up to three lines and a maximum of 17 characters per line), which includes a lifetime replacement warranty.
If you would like to sponsor a brick, please fill out this Brick Donation Form. You may contact Cindy Burr, Community Club Chair, or Rod Klepper with questions.
SAFE ROUTES TO SCHOOL – Phase 1
Bird City has received $15,000 from the Kansas Department of Transportation to implement Phase 1 of the Safe Routes to School Program (SRTS). This state program focuses on unsafe sidewalks that children use when walking and biking to and from school; encouraging children to walk or bicycle to school more safely.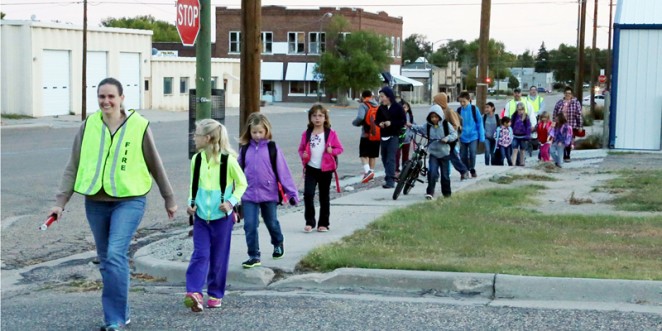 Funding from Phase 1 of the SRTS Program is to be used to create a SRTS Plan that includes all of the "5 E's". The five E's are Engineering, Education, Enforcement, Encouragement, and Evaluation. This program will allow us to create a walking school bus, conduct surveys and physical audits to identify problem areas, and educate the students on bicycle/pedestrian safety.
The end result from Phase 1 will be an action plan to make improvements for the safety of our kids to school and from school, and to apply for Phase 2 which will allow for infrastructure improvements, such as sidewalks and crosswalks. If approved, Phase 2 will be a $200,000 grant award, matched by $50,000 from Bird City Century II Development Foundation.
Through the Safe Routes to School (SRTS) project, plans to replace broken and add new sidewalks around the community are underway.
YOGURT FOR YOUTH PROGRAM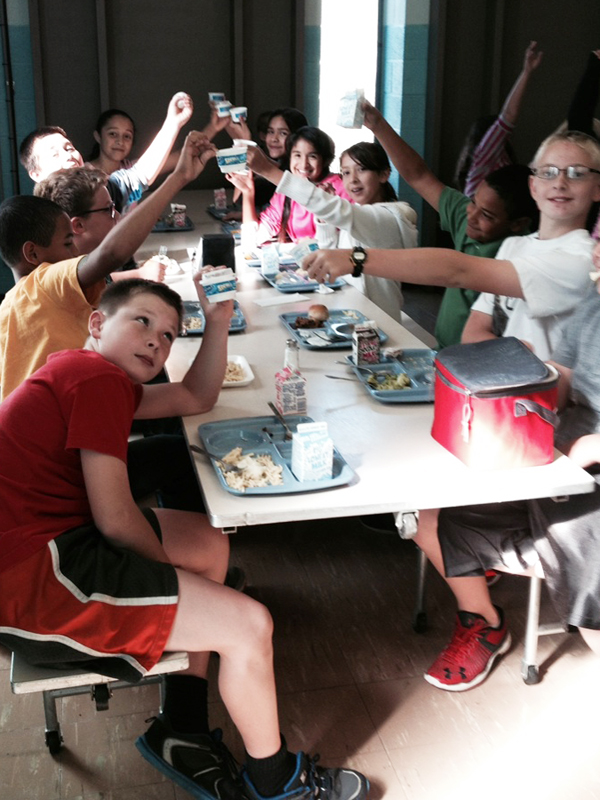 McCarty Family Farms, which includes Bird City Dairy, has taken the initiative to assist our local educational systems providing nutritious, delicious, and low cost dairy products to the students and staff. Utilizing their relationship with Dannon yogurt and the local school systems, McCarty Family Farms provides 5,000 individual servings per week to the students throughout the school year.
Schools that are currently receiving weekly yogurt deliveries are Golden Plains USD 316, Colby Public Schools USD 315, Heartland Christian School, Sacred Heart Catholic Academy, Cheylin Schools USD 103, Scott County USD 466, Kids Port Day Care and Preschool and Southern Valley School District.
Be sure to thank Mike & Amy McCarty with the Bird City Dairy for this AWESOME contribution to our school!!!
HISTORICAL TREE MUST COME DOWN – City of Bird City Post
Oh the wonderful things that this tree has seen throughout the years. Yet sadly, the day has come for a piece of Bird City history to end it's familiar rein.
Tomorrow, August 12, 2015, the City will be removing the tree, as it currently poses a hazard to both people & adjacent structures. Back in May, the Kansas State Forest Service came to inspect some of the trees throughout town. The following is an excerpt from their recommendations: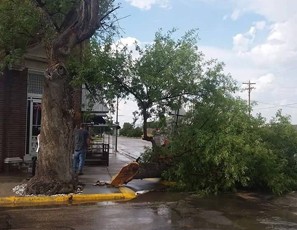 "The first tree that we looked at was the Ash tree next to the old Café. This is a very old tree surrounded by cement and pavement and very little room to grow. The tree has multiple defects including bore damage, rot, horizontal and vertical cracks, dieback, and poor structure from being topped. This tree is not safe. It is in an area that sees foot traffic as well as vehicular traffic, and may even cause structural damage to the café in the event of a failure. There is no telling when this tree will come down, but it will fail. My professional opinion is that you remove this tree immediately. I realize that a tree of this age carries a certain amount of sentiment within the community, but the risk to public safety from keeping this tree far outweighs its benefits."
Unfortunately, the storm last month brought down a large portion of the tree, leaving it in very poor condition. The decision was made last night at a special council meeting to have the tree removed, before it comes down on its own.
AMERICAN LEGION HALL RENOVATION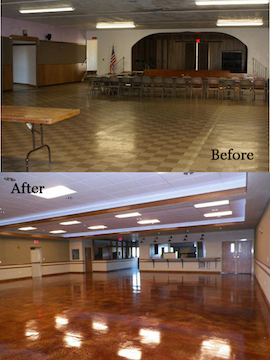 The American Legion Hall underwent a major renovation in 2012, finishing up majority of the construction in early 2013. In the early stages of the project, Howard's Tri-State Construction out of St. Francis renovated the prior concrete storage space into an additional office for Bird City Century II Development Foundation, along with a maintenance room for the Legion. A new storage room, to house all of the Legion tables and chairs, was then built to the east side of the stage in the Legion Hall. During this construction process, the Legion floor tiles were also completely removed, due to asbestos.In mid-2012, Miller Construction of Goodland continued the renovation project, which included removing the old restrooms in front; making the front entrance area a Flag Memorial Room to honor those who have served for our country; the kitchen was doubled in size as the room to the east became a part of the extended kitchen; and a new concrete stained floor, corkboard walls, and a tiled-tiered ceiling with 5 stages of lighting were added.It has been a big project, but by the numerous events held in the Legion each month, it continues to be a great asset for the community!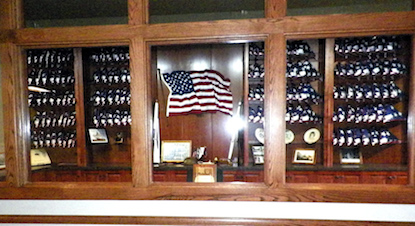 CHEYLIN WELLNESS CENTER
A community project that took place in Bird City was the construction of the Cheylin Wellness Center. The building is 40′ wide x 80′ long with 10′ ceilings, frame construction, cement siding and a metal roof. The Cheylin Wellness Center is on the lot north of the Cheylin Elementary School. The Cheylin construction & carpentry classes, along with community volunteers did the basic construction.
Donations for the Cheylin Wellness Center project (for maintenance of the building or upgrading equipment, as needed) can be dropped off or mailed to: Bird City Century II Development Foundation, 107 West Bressler, PO Box 593, Bird City, Kansas 67731. Checks to be made payable to Cheylin Schools Foundation Fund (Memo: Cheylin Wellness Center).